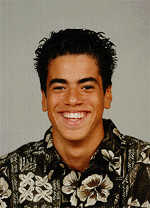 9
Jorge Alifonso

Height: 6-2
Year: Sophomore
Position: Swing Hitter
Hometown : Dorado, Puerto Rico
1998 (Freshman): A part-time starter for the beginning portion of the season…posted six double-figure kill matches with a high of 16 twice against USC (Jan. 23) and Penn State (Jan. 7)…also in his debut as a Rainbow, had seven digs and six blocks…in match against Trojans, hit .429 along with three service aces and seven blocks…served up five aces vs. UC San Diego (Feb. 26)…sparked UH off the bench in win over UC Santa Barbara (Apr. 18), with four kills, four digs, and four blocks…was slowed for much of the second half of the season due to an illness.

Prep: A 1997 graduate of Nuestra Senora del Belen High School in Guaynabo, Puerto Rico…lettered in both basketball and volleyball…member of the All-Star and All-State teams…received All State and All League honors…Recruited by Lewis University, Penn State and University of Puerto Rico.

Personal: Born Oct. 9, 1979 in Dorado, Puerto Rico…enjoys bodyboarding, music and movies…biggest athletic thrill was going to the World Championship in Arabia in 1997…favorites include Puerto Rican food, basketball star Michael Jordan, actors Mel Gibson and Robert DeNiro, singer Bob Marley, and the movie "Braveheart"…goal is to become a better athlete and person…has two sisters, Luali and Deborah…parents are Aida Castro and Jorge Alifonso of Dorado, Puerto Rico.



Career Stats
Year	MP-GP	Kill	K/Avg	E	Att	Pct	Ast	Ace	Dig	D/Avg	BS	BA	TB	B/Avg
1998	19-56	135	2.41	66	290	.238	16	21	75	1.34	3	47	50	0.89