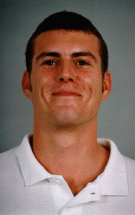 13
Jason Salmeri


Height: 6-5
Weigth:
Year: Junior
Position: Middle Blocker/Opposite
Born: King George, Virginia

Earned two letters in volleyball at George Mason (Va.) University...
redshirted as a freshman.
High School: A 1993 graduate of King George High School in Virginia... earned four letters in soccer and three each in cross country and track.
Personal: Born June 24, 1975, in New London, Conn...chose Hawai`i because he wanted to play on a national championship team...plans to major in communications and minor in sociology...enjoys playing basketball, soccer and beach volleyball in his spare time...favorites are red, pizza, John Travolta and the movie "Pulp Fiction"...lists Deion Sanders and Michael Johnson as his favorite athletes...most embarrassing moment was finishing a cross country race after losing his shoe halfway through it...has two brothers (Brandon and Nick) and a sister (K.C.)...parents are Diane and Philip Salmeri of King George, Virginia.