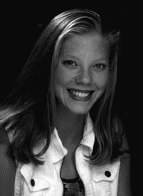 12
Jennifer Roberts

Height: 6-2
Year: Sophomore
Position: Middle Hitter
Born: Huntington Beach, CA

1996: She has "gotten her feet wet nicely" this season gaining valuable experience that will no doubt carry over to next season…was second on the squad in hitting at .410…had an outstanding Aston's Imua Wahine Volleyball Challenge as she hit .519 in three matches with only one hitting error…recorded a superb .418 hitting percentage in 12 WAC matches.

HIGH SCHOOL: A 1996 graduate of Calvary Chapel High School in Santa Ana, Calif...a four-year letterwinner in volleyball while also lettering once in basketball and track...as a senior, was a member of the Fabulous 50 list in Volleyball Magazine...earned Orange County Register Player-of-the-Year honors...picked first team All-County by the Los Angeles Times...a Mizuno All-American...twice earned All-State honors while going on to be named Most Valuable Player in the state finals her senior year after recording a division record 25 kills leading her team over Linden in the Division IV Championships...a first team All-CIF selection following both her junior and senior seasons...was selected as the Most Valuable Player of both the Olympic League and the Redondo Beach Classic...Most Valuable Female Athlete in the Olympic League...a member of the Orange County Volleyball All-Star team...as a junior, was named Booster Athlete-of-the-Month as well as going on to be named first team All-CIF and All-State.

PERSONAL: Full name is Jennifer Lyn Roberts...born Dec. 7, 1977, in Harbor City, Calif...has a career goal of helping abused children and drug babies...favorites are forest green, salad, the Bible, and the musical group Dakota...biggest athletic thrill was when she learned to high jump...one of the craziest things that she has ever done was to repel down a 70-foot drop...has an older sister, Sara, and a younger one, Hannah...parents are Liz and Ronald Roberts of Huntington Beach, Calif.

Year	GP	K	E	TA	PCT	KPG	SA	DG	DPG	TB	BPG
1996	30	53	10	105	.410	1.77	1	14	0.47	20	0.67


Roberts Career Highs
Kills	6	vs. Air Force (11/15/96)
SA	1	vs. Cal State Sacramento (9/6/96)
BS	1	vs. Air Force (11/15/96)
BA	3	2x, Last at UNLV (10/18/96)
Digs	3	vs. Cal State Sacramento (9/6/96)