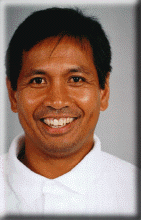 Assistant Coach Tino Reyes
Born and raised on the island of Molokai, Tolentino "Tino" Reyes begins his fifth season as an assistant coach to menšs volleyball head coach Mike Wilton.
Prior to his position with the men's team, Reyes served two years as an assistant to Wahine volleyball coach Dave Shoji.
During his three-year tenure at Hawai`i, the Rainbow men have amassed a 78-32 overall record and made three trips to the NCAA qualifying tournament, including two trips to the Final Four.
A longtime associate of coach Wilton since the '70s, Reyes and Wilton worked together at Cal Poly-San Luis Obispo where Wilton headed the nationally ranked women's volleyball program.
Before returning to Hawai`i in the mid '80s, Reyes was an assistant at three schools: Cal Poly-SLO, Southern Illinois and Weber State. He also served as head coach at Oregon State and Chaminade.
Reyes earned his degree at Cal Poly-SLO in 1984 where he played one year of collegiate volleyball.