Assistant Coach Erik Pichel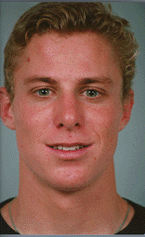 Erik Pichel begins his first year on the Rainbow coaching staff after an illustrious career as UH's setter for the past two years.

Pichel earned AVCA First-Team All America honors last season as he led the nation in assists for most of the year. He also earned First-Team All-MPSF honors.

As the Rainbow's No. 1 setter, Pichel directed Hawai'i to back-to-back NCAA Final Four appearances and the school's first-ever MPSF Pacific Division title. He served as team captain his senior year.

Born and raised in Pacific Palisades, Calif., Pichel played two years of volleyball at Santa Monica Junior college under coach Bill Lawyer, where he helped the team to the 1993-94 California State Championship runner-up title. During the fall high school season, Pichel also served as an assistant coach to the Punahou High School girls' varsity team that won the state championship.

Pichel enjoys surfing and skiing. He's currently completing a bachelor's degree in pre-physical therapy at UH-Manoa.