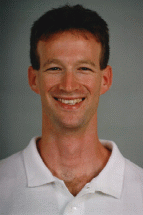 7
Naveh Milo

Height: 6-2
Weight: 170
Year: Junior
Position: Outside Hitter
Born: Kibbutz Sarid, Israel

1996 Season Highlights: Named Second Team all-MPSF.
1996: Season Highs: 26 kills vs. UCLA (March 1)...five aces vs. Penn State & UCLA (Jan. 26, March 1)...15digs vs. UCLA (March 2)... four blocks vs. Long Beach State and San Diego State (Feb. 17, March 27).
1996: First year at UH...joined the team in spring 1996...expected to play a major role in the Rainbows' scrappy defense...Yuval Katz teammate on the Israeli National team...plays two- man beach volleyball with Katz in Europe.
High School: 1990 graduate of Amakim High School in Israel...competed in high school volleyball and gymnastics...four-time Israel champion and two-time cup winner in gynmastics.
Personal: Biggest athletic thrill was winning his first Israeli gymnastic title...plans to play successfully on the AVP or in the national volleyball league...father was a famous singer in Israel... favorite food is shawarma...enjoys the movies The Witness and Forrest Gump...favorite actor is Robert DeNiro...says his brother, Navot is the most influential person in his life...favorite athlete is Gary Caspasov...favorite subject in school is history...enjoys relaxing and walking in his spare time...likes volleyball because it combines the mental and physical abilities with maturity...picked Hawai'i because of its winning volleyball program...has three brothers, Navot (35), Nachshon (32) and Netzer (18)... parents are Nurit and Natan Milo of Kibbutz Sarid, Israel.