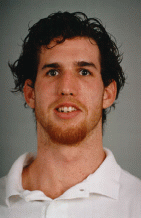 10
Sivan Leoni

Height: 6-4
Weight: 190
Year: Junior
Position: Middle Blocker
Born: Kibbutz Hamaapil, Israel

1996 Highlights: Played in 30 matches this season...led the team in blocking...finished the season with 27 solo blocks and 84 block assists.
1996: Season Highs: 12 kills vs. BYU (March 16)...three aces vs. USC (Feb. 23)...eight digs vs. BYU (March 16)...six blocks vs. BYU (March 16).
1995: Instrumental in Hawai`i's 1995 successes and first appearance in the NCAA final four...10 block assists vs. Long Beach State (March 30)...had six matches with .400-plus hitting average vs. Loyola Marymount, UC San Diego, UC Santa Barbara, UC Irvine, San Diego State and Cal State Northridge...10 matches with at least two service aces...nine digs vs. USC (March 16)...11 digs vs. UC Santa Barbara (Feb. 28)
UH Freshman: After fall training drills and performance against Brigham Young earned a starting position.
High School: 1992 graduate of Maayan High School in Kibbutz Ein Hachoresh, Israel...played four years of volleyball...a three time All-State selection...played in numerous tournaments in Europe with the national team of Israel...played in both the high school and premier leagues of Israel.
Personal: Nickname is "Chicken"...born June 14, 1974 Israel...has yet to declare college major...planning a professional volleyball career in Europe...favorite athlete is Oded Machnes...hobbies include computers and photography...parents are Yona and Roberto Leoni of Kibbutz Hamaapil, Israel.