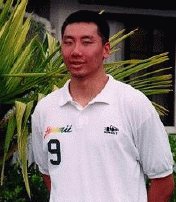 9
Mason Kuo

Height: 6-1
Weight: 170
Year: Sophomore
Position: Swing Hitter
Born: Honolulu


1996: Vying for position on traveling squad...played on the Big Island during fall training period.
1995: Spent first year at UH as redshirt.
High School: 1994 graduate of McKinley High School in Honolulu...earned four letters in volleyball...a two-time First Team OIA East All-Star selection...named OIA East Player-of- the-Year and Honorable Mention All-State...played on McKinley's 1994 team that won the OIA East Division championship... coached by former Rainbow standout Jeff Poppinga in 1993...graduated magna cum laude...a four-time high school scholar-athlete.
Personal: Nickname is "Mase"...born in Taipei, Taiwan on July 6, 1976...is of Taiwanese ancestry...favorite subject is math...most embarrassing moment was setting a ball to the ceiling at the Hawai`i state volleyball tournament...stayed at home so his family and fans could see him play volleyball...has two brothers, Sam (27) and Loy (25)...parents are Yuhuan and Linan Kuo of West Loch on Oahu.