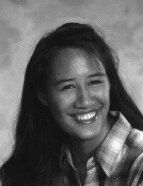 2
Leah Karratti
Height: 5-9
Year: Sophomore
Position: Left-Side Hitter
Born: Waimea, Kauai

1996: Redshirted.

WEBER STATE: Earned two letters while playing as both a right-side hitter and backrow specialist for the Wildcats...played in all 28 matches as a freshman with 171 digs and 26 aces...as a sophomore, played in all 29 matches leading the squad in aces with 42 and was third on the team with 268 digs...a member of the Polynesian Club.

HIGH SCHOOL: A 1994 graduate of Waimea High School on the Garden Isle of Kauai...a four-sport athlete earning four letters in volleyball (right-side hitter), basketball (guard), and track (high jump) while lettering twice in soccer (center)...led her volleyball team to four straight Kauai Interscholastic Federation (KIF) championships...earned two KIF Most Valuable Player honors in volleyball (1992, '94) and one MVP in basketball (1994)...as a high jumper, she won the KIF in the event all four years during her high school stint and placed second in the states as a senior...selected to the Nissan Hall-of-Fame in 1994...member of the National Honor Society and Hawaiian Club.

PERSONAL: Born Leah Ewalani Karratti on March 12, 1976, in Waimea...plans to return to Kauai and teach elementary education after graduating from college...favorites are blue, Oreo cookies, and the TV show "Lois and Clark"...she has four brothers, Enoka, Michael, Keola, and John and one sister, Shereen...daughter of Phyllis and Steven Karratti of Waimea, Kauai.