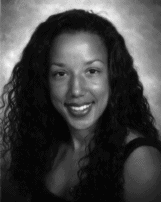 8
Nikki Hubbert

Height: 5-9
Year: Junior
Position: Setter
Born: Bakersfield, CA

1996: Played in 20 games over 16 matches…came up huge against Rice in the WAC Tournament when Robyn Ah Mow went down and proceeded to dish out 44 assists, 10 digs, and three blocks in UH's three-game sweep of the Owls…handed out 24 assists against Santa Clara (Sept. 8) and 21 versus Utah (Nov. 1)…appeared in 10 WAC matches dishing out 90 assists.

WASHINGTON STATE: A back-up setter for the 1995 Cougars finishing second on the squad in assists...participated in 32 games in 15 matches on a WSU team that finished 22-7 overall and 12-6 in the PAC-10...selected in her first semester to the President's Honor Roll.

HIGH SCHOOL: A 1995 graduate of Bakersfield High School in California where she earned four letters in both volleyball and track, three in basketball, and two as a cheerleader...as a freshman, named to the All-Southeast Yosemite League team and honorable mention All-Area team...as a sophomore, earned all-league again and was on the first team All-Area squad while being voted the team's MVP...as a junior, she was selected all-league and second team All-Area...was team captain and again voted the team's MVP...during basketball season earned Player-of-the-Week and Player-of-the-Month honors as well all-league...her senior season, the Drillers won the league and sectional championships...Bakersfield lost to Mira Costa High in five games in the second round of the state playoffs...earned all-league and first team All-Area kudos...named to honorable mention All-State...selected team captain and MVP...voted the school's Most Outstanding Female Athlete...all-league in basketball...won Valley Championships in volleyball in 1992 and 1994...league champs in volleyball in 1994...was on the 1992, 1993, and 1995 basketball league championship teams...her track teams in 1992 and 1995 garnered league titles.

PERSONAL: Full name is Nakkia Terré Hubbert...born July 21, 1977, in Logan, Utah...majoring in secondary education...favorites are Michael Jordan, Janet Jackson, forest green, plums, and strawberries...resides with mother Kim and stepfather Dave Ivarie of Bakersfield, Calif...father is Terence Hubbert, who played football for Utah State and lives in Bakersfield, Calif.

Year	GP	K	E	TA	PCT	AS	APG	SA	DG	DPG	TB	BPG
1996	20	7	3	20	.200	181	9.05	0	32	1.60	15	0.75	


Hubbert Career Highs
Kills	2	2x, Last vs. Utah (11/1/96)
BA	3	2x, Last vs. Rice (11/27/96)	
Digs	10	2x, Last vs. Rice (11/27/96)	
AS	44	vs. Rice (11/27/96)