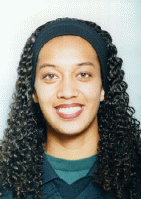 3
Cecelia Goods

Height: 6-1
Year: Senior
Position: Middle Hitter
Born: Kihei, Maui

1996: Played in every match last season…a second-team All-WAC selection…had an outstanding Mountain Regional hitting .386, including an 8-0-15 effort in the title match with BYU…put up nine double figure kill nights including a career-high 19 kills that was a part of her only double-double (19 kills-12 blocks) at Colorado State (Nov. 8)…has become more of a force at the net in both hitting and blocking…went nine matches on the season without committing a hitting error…surpassed both her single-season marks in kills and digs…played in all 16 WAC matches hitting .430 with 103 kills, 37 digs, and 57 total blocks…career-wise, she is tied for 6th in hitting percentage (.316), 9th in block solos (51), tied for 5th in block assists (309), 6th in total blocks (360), and 5th in blocks per game (1.31).

1995: One of two Rainbow Wahine regulars to hit over .300 on the season...finished second on the squad in blocks (144)...placed third in the Big West Conference in blocks per game (1.35) and seventh in hitting percentage (.301)...recorded 11 total blocks in two matches vs. Pacific on September 22 (3 bs/8 ba) and vs. Louisville (1 bs/10 ba) on December 2 in the second round of the NCAA Tournament.

1994: Redshirted.

1993: She played in 21 matches and 51-of-102 games...was the second highest freshman in hitting percentage on the squad with a .284 average...had an outstanding series at Cal State Fullerton (Sept. 28-29) slamming down 16 kills in 18 attempts for an incredible .889 percentage...had just one service error...went the whole season without a reception error.

HIGH SCHOOL: Graduated in 1993 from Kamehameha Schools...a four-year letterwinner in both volleyball and basketball...named to the All-ILH first team in both volleyball and basketball...led Kamehameha to back-to-back state championships in volleyball in 1993 and 1994...directed her basketball squad to three consecutive state titles from 1990-93.

PERSONAL: Full name is Cecelia-Ann Pi'ilani Goods...born July 1, 1975, in Virginia...pursuing a degree in sociology...enjoys reading...favorite athlete is Shaquille O'Neal of the Los Angeles Lakes...daughter of Ethel and Moses Goods of Kihei, Maui.

Year	GP	K	E	TA	PCT	KPG	SA	DG	DPG	TB	BPG
1993	51	56	16	141	.284	1.10	1	7	0.13	46	0.90
1995	107	175	47	426	.301	1.64	5	66	0.62	144	1.35
1996	115	245	70	518	.338	2.13	5	76	0.66	153	1.33
TTL	273	476	133	1085	.316	1.74	11	149	0.55	343	1.26


Goods Career Highs
Kills	19	at Colorado State (11/8/96)
SA	2	2x, Last vs. Brigham Young (12/13/96)
BS	4	vs. Stanford (11/2/96)
BA	11	at Colorado State (11/8/96)
Digs	7	vs. Texas A&M (10/19/95)