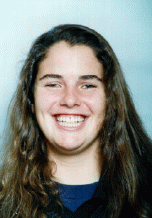 10
Lori Garber

Height: 6-3
Year: Sophomore
Position: Middle Hitter
Born: Manhattan Beach, CA

1996: Redshirted.

1995: Played in just 22 games during 19 matches but showed signs of becoming a solid force at the net...hit .393 on the season...put together an impressive four-game stint where she hit .419 in back-to-back series with Utah State and Nevada.

HIGH SCHOOL: Graduated in 1995 from Mira Costa High School in Manhattan Beach, Calif...was a teammate of sophomore Kelli Cordray...during her high school career, she lettered twice in volleyball and once in softball...earned first team All-CIF Southern Section, third team All-State, and honorable mention All-American honors...also named to the Nike Challenge All-Tournament team...participated on the Mizuno All-American California team that took first place.

PERSONAL: Full name is Lori Beth Garber...born April 24, 1977, in Los Angeles, Calif...has not declared a major but is planning to major in some aspect of business...has aspirations of traveling the world before becoming an entrepreneur...belongs to the Key Club and is a Special Olympics volunteer...favorites are blue, her mom's stuffing and the movie Pulp Fiction...would like to go back in time and meet Walt Disney...daughter of Judy and Marty Garber of Manhattan Beach, Calif.

Year	GP	K	E	TA	PCT	KPG	SA	DG	DPG	TB	BPG
1995	22	29	7	56	.393	1.32	1	4	0.18	8	0.36


Garber Career Highs
Kills	6	vs. Utah State (10/28/95)	
SA	1	vs. Nevada (11/2/95)
BS	1	2x, Last vs. Nevada (11/2/95)
BA	2	vs. Nevada (11/3/95)
Digs	1	4x, Last vs. Arizona (11/22/95)