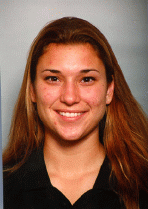 4
Kelli Cordray

Height: 5-10
Year: Junior
Position: Left-Side Hitter
Born: Manhattan Beach, CA
1996: She has played in 26 of the 38 matches and 47 games…was not used in the Mountain Regional…used primarily in the backrow, but she can swing from the left side of the court when needed…showed brilliant defense in the second-round match with Colorado as Head Coach Dave Shoji stated afterwards "whenever she was in there, good things seemed to happen"…exceeded season-highs in kills, attempts, hitting, digging, and blocking…played in 14 WAC matches hitting .227 with 37 digs.
1995: Played in 25 matches at both left-side hitter and back-row specialist...had a season-high six kills vs. Utah State (Oct. 28)...recorded seven digs on two occasions...had a string of 12-straight matches with at least one dig running from Oct. 7 through Nov. 17.
HIGH SCHOOL: A 1995 graduate of Mira Costa High School in Manhattan Beach, Calif...a prep teammate of sophomore Lori Garber...a member of the honor roll, CSF, and sealbearer...received Golden State honors in both history and math...awarded 10 letters in volleyball, soccer, and track...participated on eight Ocean League Championship teams, including four volleyball, three soccer and one track...a volleyball Fabulous 50 pick and Mizuno All-American alternate...part of the all-state, CIF, and Ocean League first teams...led her team to the Davis Festival finals in 1993...team's Most Improved, Most Inspirational, and Most Valuable Player...also recruited by UCLA, Yale, Harvard, and California for her soccer skills...was a member of the National State Cup Soccer Championship team in 1989.
PERSONAL: Full name is Kelli Reneé Cordray...born March 4, 1977, in Inglewood, Calif...major is undecided but would like to be a marine biologist...favorites are green, avocados, and the movies Grease II and The Little Mermaid...enjoys "beaching it" and playing pick-up volleyball...has one older brother, Jeff...daughter of Chris and Jim Cordray of Manhattan Beach, Calif.

	
Year	GP	K	E	TA	PCT	KPG	SA	DG	DPG	TB	BPG
1995	45	18	8	64	.156	0.40	5	49	1.09	3	0.07
1996	47	44	19	131	.191	0.94	3	59	1.26	8	0.17
TTL	92	62	27	195	.179	0.67	8	108	1.17	11	0.12	


Cordray Career Highs
Kills	7	2x, Last vs. Air Force (11/15/96)	 
SA	2	vs. San Jose State (9/21/96)	
BS	1	vs. Utah State (10/28/95)	
BA	2	2x, Last vs. Notre Dame (10/24/96)
Digs	7	2x, Last vs. Michigan (8/30/96)