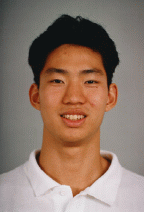 16
David Tang

Height: 6-5
Weight: 190
Year: Sophomore
Position: Middle Blocker
Born: Honolulu


1995: Redshirt year...worked out in the weight room...put on 20 pounds of weight and added strength.
High School: 1994 graduate of Mid Pacific Institute in Honolulu...played four years of varsity volleyball and one year of varsity basketball...named Second-Team ILH and Fab 50 in 1994...played on the 1992 Kamalii Junior Olympic team and the 1994 Santa Monica Beach Club Junior Olympic team... coached by Derwin Tsutsui in volleyball and Wayne Feiki in Basketball...a member of the National Honor Society.
Personal: Born February 28, 1976 in Honolulu...Full name is David Tang...nickname is Wu-Tang...listens to music and cruise in his car in his spare time...plans to major in business...plans to start his own business after graduation...lists history as his favorite subject...former Rainbow Jason Olive is his favorite athlete...biggest athletic thrill is being on the Rainbow men's volleyball team...lists his father as the most influential person in his life...favorite movie is Dragon, favorite singer is Selena, favorite food is lobster...is of Chinese ancestry...has one sister, Tiffany (16)...parents are Lily Tang of Nuuanu, Oahu and Ronald Tang of Honolulu.