Keeping Score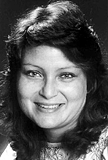 By Cindy Luis
Wednesday, June 26, 1996
---
'The smile' returns
to Hawaii volleyball courts
"TEEE!" The voice was familiar, but it belonged to another time and another place halfway around the world.

Teee Williams, a former University of Hawaii All-American volleyball player, was in the midst of an autograph session in Switzerland a few years back when she heard someone calling her name.

"I knew the voice but it was in the wrong place," said Williams, who was competing in the Montreaux Cup for the U.S. national team. "Then I looked up and saw the smile."

It was the smile that, in the mid-1980s here, became as recognizable as the one belonging to the Cheshire Cat. It was the unmistakeable grin of Suzanne Eagye, a Wahine teammate of Williams on Hawaii's last national championship team in 1987.

Eagye and another former Wahine, Gunnvor Aase, had come to watch the American women - in particular Williams - play in the international tournament.

Eagye and Williams were reunited for the first time in nine years last week at the Rainbow Wahine Volleyball Camp at the UH Special Events Arena. Williams was in Honolulu to promote the Women's World Grand Prix, an international tournament that has its only U.S. stop here in September.

Eagye, now married with two children, was helping out Wahine coach Dave Shoji at the camp. She, husband Tim Cox and children - 5-year-old Caleb and 2-year-old Lauren - moved to Hawaii in January, hoping to become permanent residents.

"We've been in Europe since 1989 and, after leaving, decided to give Hawaii a shot," said Eagye, the UH career leader in four blocking categories and No. 2 in career kills. "Tim's been doing a lot of things, trying to find 'The Job' that will help us stay here."

Cox, a Moanalua High graduate, recently found what he considers a dream job as a video productionist at Schofield Barracks. Eagye is a stay-at-home mom 'xxx except for this week, when she's in Davis, Calif., with her Asics Volleyball Club 13-under junior girls team.

"I think I'm finding my niche, being with kids," said Eagye, who played professionally in Europe for a season before getting married in 1989. "It's been great, being involved with them and teaching them that sports are fun. I'm having a really good time and my girls have been doing very well.

"I enjoy being up at UH, practicing in the same gyms that I did when I was in school. And I love the arena."

Eagye was in Germany when the Special Events Arena opened in 1994 and missed out on the gala evening that feted the Wahine teams of the first 20 years. The first match she attended in the new arena was this past January, when the Hawaii men broke a five-year losing streak to UCLA.

"The men were a lot of fun to watch and my son was running around the house all season singing 'YMCA'," said Eagye, who said Caleb is expected to grow to 6-8. "I was floored by the excitement they had generated. I think Hawaii was just waiting for this to happen.

"The arena would have been exciting to play in, but Klum Gym was thrilling in its own way. I don't think you can top the energy and the excitement we felt when we were playing in there. I wouldn't trade what we had for the arena."

Eagye's favorite Klum Gym memory was of defeating nemesis Pacific in the 1987 regional, when more than 3,000 fans stuffed into Klum Gym. The victory lap she, Tita Ahuna, Mahina Eleneki, Diana Jessie, Martina Cincerova and Williams took was a portend of things to come; the following week, the victory lap was around Market Square Arena in Indianapolis after the NCAA title match.

"What's been exciting for me is seeing the impact the arena has had on the program," she said.

"It allows so many more people to get involved. It's allowed the interest that has always been here to explode. The crowd at the men's games was a show in itself. There's not a crowd in the country that had more fun.

"I can't wait to get season tickets for the Wahine games this year."

And you know Eagye is smiling when she says it.
---
Cindy Luis is a Star-Bulletin sportswriter. Her column appears weekly.
---