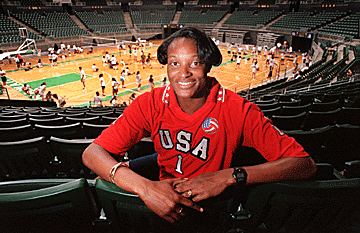 Teee Williams, the former All-American from Hawaii, is now a member of the U.S. Olympic Team.
Photo by Dennis Oda, Star-Bulletin
---
Ready to Teee up
By Cindy Luis
Star-Bulletin
---

It's a farewell tour that Teee Williams never expected would even begin.

The former University of Hawaii All-American volleyball player did not grow up dreaming she'd play on the U.S. national team, and certainly not in two Olympics.

But in four weeks at Atlanta, Williams again will be wearing her trademark No. 1. In September, the two-time college Player of the Year will be back in Hawaii for the Honolulu stop of the $1.5 million Women's World Volleyball Grand Prix.

The Bank of Hawaii Cup, Sept. 12, 14 and 15 at the UH Special Events Arena, is the first leg of the Grand Prix. The four-team international tournament is also the first leg of Williams' final stint with the national team.

"I'm looking forward to the Grand Prix because the first stop is in Hawaii, and I always love playing here," said Williams, who has been with the national team since 1990. "This pretty much will be it for me and the national team. After my contract is up, I'll be going to Italy to play for, I hope, a few years.

"What do I see myself doing in five years? I see myself married, having a couple of kids and living who knows where."

Williams, who married a Schofield Barracks soldier before her senior year at UH, got divorced a few years ago. She and boyfriend Drazen Slacanin have been talking marriage and, at 28, Williams feels she's ready to make that commitment.

She's also more than ready to leave volleyball, which has been a 24-hour commitment almost since she left the Wahine program.

Williams has overcome a broken toe and chronic shoulder injuries to stay with the team. She sprained her back in a diving drill recently and sat out the recent BCV Cup in Switzerland.

It's all been worth it.

"Being an Olympian is a privilege, and I'm proud to say I am one," said Williams. "But it is a real, real commitment. You have to put your personal life on hold until it's over.

"You do it for yourself and your country. You do it to get up on a platform, have a gold medal put around your neck, with the entire world watching. How many people get to represent their country like that?"

The U.S. is among the gold-medal favorites, along with Cuba and Brazil. The American women won the bronze in the 1992 Barcelona Games; Williams wants to end her Olympic career on a higher step.

One inspiration to do so came easily yesterday while sitting in the Special Events Arena. She looked up at the Wahine's national championship banners, focusing on "1987."

That was her sophomore year, the year of Hawaii's fourth - and last - title. In 1988, the Wahine finished second to Texas; in 1989, UH lost in the regional championship to eventual national title winner, Long Beach State.

"I'll take '87, but there should have been another, definitely, in 1988," she said. "And in '89, we should have been back here (in the national tournament played at Blaisdell Arena.). I still think about it when I watch the old videos."

The 1987 video came to life yesterday at the Rainbow Wahine Volleyball Camp, where Williams was reunited with former Wahine teammate Suzanne Eagye, who moved back to Hawaii in January with her husband and two children.

"I wasn't surprised that Teee made the Olympic team," said Eagye, an All-American middle blocker. "She had the talent, even as a freshman. She's one of those athletes who don't come along every day."
---
BANK OF HAWAII CUP
What: Women's World Volleyball Grand Prix
Where: Special Events Arena.
Dates:
Sept. 12-Japan vs. Cuba, 6 p.m.; Netherlands vs. U.S., 8 p.m.
Sept. 14-Netherlands vs. Cuba, 1 p.m.; Japan vs. U.S., 3 p.m.
Sept. 15-Netherlands vs. Japan, 1 p.m.; Cuba vs. U.S., 3 p.m.
Tickets: $8.50-$25. Available beginning Saturday at Special Events Arena or 545-4000.
---
---