Sivan Leoni is a big hit with the University of Hawaii volleyball team. But his ambition is to be a professional photographer. On the court and off, he's always ...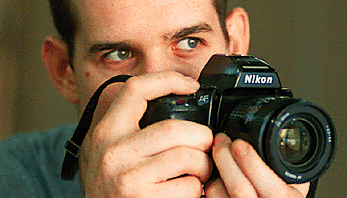 Taking his best shot
By Cindy Luis, Star-Bulletin
Photos of Leoni by Craig Kojima, Star-Bulletin
Photos by Sivan Lioni
---

He has a serious side.

Honest.

It's just that Sivan Leoni, the self-appointed court jester of the Hawaii men's volleyball team, likes to express himself. Out loud and outrageously.

The sophomore middle blocker can be described as a piece of work or a work in progress. Leoni calls it freedom to be himself.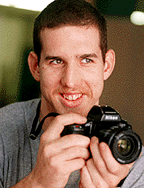 "There is so much freedom here," said the Israeli national who leads the top-ranked Rainbows in blocking heading into tomorrow's 7 p.m. first-round match with Pepperdine. "At home, in Israel, you have to fight for your survival. It's too big of a subject to discuss here but say, for example, the army. You have to go. If you don't, you have many problems when you want to work, have a job.
"In Israel, there are things you have to do, even if you don't want to. You don't get to have your own opinion all the time. Here, everything you choose to do, you can do."
Choosing to come to America, the Land of the Free, is everything the 21-year-old Leoni expected it to be. And more.
One gets the feeling that even if the Rainbows weren't experiencing their phenomenal success - No. 1 ranking, 25-1 record, sellout crowds - Leoni would still be having a good time playing. The 6-foot-4 blocker plays to the fans, showing off his biceps after a particular emphatic block much like Popeye after eating a can of spinach.
"He's probably more valuable to us than a lot of people realize," said Hawaii coach Mike Wilton. "He's so fearless, such a competitor. And he has the capability to keep things light.
"Volleyball is important, but he doesn't make more out of it than there actually is. He doesn't have an ego. He's the consummate team player."
Leoni was named for his birth month of June, corresponding with the zodiac sign of Gemini, the Twins. He has the personality of two people, a setter inside a blocker's body (he set for his junior national team briefly) with his tastes running from hard rock music to photography.
He was bitten by the shutter bug about six years ago, while touring with his club team. Leoni hopes to pursue photography as a profession in the U.S.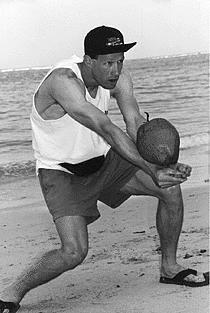 "My friend had an inexpensive camera and he taught me some of the basic stuff," said Leoni. "It's definitely what I want to do after school. There is no photography major here but I'm going to take all the photography classes UH provides."
His pictures reflect Leoni's personality and are as varied as his mood swings. From a somber young Israeli girl to a guitar wearing bikini underwear, the photos are refreshing and candid, honest and clever.
It's the same attitude he brings to the volleyball court.
Wilton likes Leoni's style, his quickness despite his husky frame, and his competitiveness.
Leoni has emerged as a force at the net, shutting down some of the country's top hitters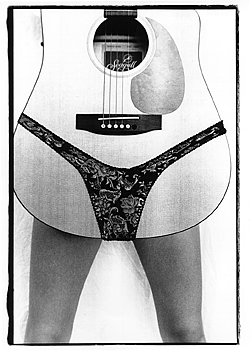 regularly. He has toned down his flamboyant style a bit, trading in his day-glo orange locks for a shaved head and tiger-print headband. But his antics on the court have endeared "Sivi" to his teammates and irritated the heck out of opposing coaches and players.
"I talked to him a few times, but there's no maliciousness in what he's doing," said Wilton. "He's not saying anything about anyone's mother through the net, not trash talking, not swearing or taunting. He's having a good time.
"If he's the biggest problem in men's volleyball, then men's volleyball is in pretty fabulous shape."
---
---