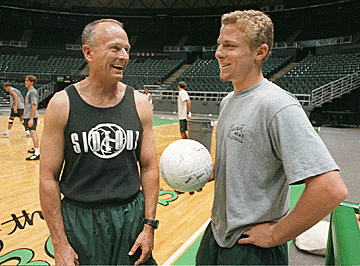 Skiing was his first sport in high school, but Erik Pichel chose to play volleyball in college and the University of Hawaii men's team is thankful for that. He leads the nation in assists and is one big reason the Rainbows are ranked No. 1. Pichel with coach Mike Wilton.
Photo by Dennis Oda, Star-Bulletin
---
'Bows are in good hands
By Cindy Luis
Star-Bulletin
---

In a sport that is dominated by those able to play above the net, a 6-foot setter is often overshadowed by players who are less vertically challenged.
That's not the case for Erik Pichel, whose deft hands have helped keep the University of Hawaii men's volleyball team ranked No. 1 all season. The Rainbows' senior setter might be overlooked but should never be underestimated, particularly this week, with No. 5 Stanford standing in the way of a perfect conference record.
"Underneath that quiet demeanor of his beats the heart of a warrior," Hawaii coach Mike Wilton said of Pichel. "Erik is extremely athletic and works hard. He gets to a lot of balls that other people can't get to, makes a lot of great plays out of marginal passes.
"Erik's got great set distribution. While it's true that we have a wonderful collection of hitters, Erik's a big part of that reason."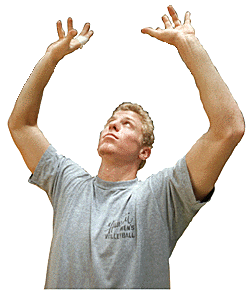 And to think that Hawaii's team captain could be schussing down some Rocky Mountain slope as a collegiate skiier instead of helping the Rainbows (23-1) to a 17-0 mark in the Mountain Pacific Sports Federation. A sweep of Stanford tomorrow (7 p.m.) and Saturday (7:30 p.m.) at the Special Events Arena would make Hawaii only the sixth school to be undefeated in conference play.
"Skiing was my first consideration for a college sport," said Pichel, who spent 13 years living in Europe before returning to his native California for high school. "I was offered a chance to go to an Olympic development school. Skiing has a lot to do with athleticism, not your height, like volleyball, but it's very hard on your body.
"For a lot of reasons, I decided to go to junior college and play volleyball. I was mainly a hitter in high school, but my J.C. coach said that if I wanted to go on with volleyball, I should concentrate on setting."
After leading Santa Monica (Calif.) College to a second-place finish in the state tournament, Pichel took off for France - his father is from Germany, his mother is French-Italian - to weigh his options. He returned to California and enrolled at Long Beach State, but left before classes started.
"A friend mentioned going to Hawaii, not to play volleyball but for school," said Pichel, whose setting led his team to the gold medal at last summer's Olympic Sports Festival. "The more I laughed at the idea, the more I thought it wasn't bad. I got in touch with Coach Wilton, sent him a video, and he sent me a plane ticket.
"I couldn't have picked a better place to end up. I look at all the good players I've been on teams with, and they don't have a chance to be were I am, a chance to be a national champion and get a ring. That's one of the most gratifying things about being here - that in only my second year of Division I volleyball, my team and I have a chance for a title."
---
I look at all the good players I've been on teams with
and they don't have a chance to be where I am;
a chance to be a national champion.
Erik Pichel
UH Setter
---

It's a very realistic championship shot for Pichel, the nation's leader in assists, and the rest of the Rainbows. Hawaii, which has won eight straight since its lone loss March 2 to UCLA, would dearly love to improve on last season's fourth-place showing at its first-ever final four.

Pichel and 6-3 junior Curt Vaughan have battled it out for the starting setter position the past two seasons. Pichel won the job this year, according to Wilton, through his hard work and the same court presence the coach first saw on the recruiting tape two years ago.

"Erik's strength is his overall game," said assistant coach Tino Reyes, who was a setter for Wilton at Cal Poly San Luis Obispo 15 years ago. "He can dig, is a great defensive player, not a bad blocker for his size and his jump serve is third on the team in aces (24). And he's an intelligent player whose confidence was boosted by playing in the Sports Festival.

"Erik may not necessarily be the best player at his position, but he is the best player to get everybody else doing what they need to do.

"There may be a few other setters in the country with more potential to go on to the next level (professional), but that's only because of their size. I wouldn't trade Erik for anyone."

Pichel anticipates graduating in December with a liberal arts degree. The former dean's list student at Santa Monica College is leaning toward a career in physical therapy or acupuncture, but wants to keep his options open.

"I'm not making any plans just yet," said Pichel, who speaks German and French in addition to English. "Whatever happens, happens. Maybe I'll play beach (volleyball). But right now I'm focused on the rest of the season.

"I see us going all the way. If we don't, we have only ourselves to blame. If we don't show up and play well, then it's our fault. But I don't see it happening.

"Personally, my goal is to win the national championship. I don't know if I would settle for anything less."
---

NOTES: Pichel did not practice yesterday, but is expected to be back today. He was suffering from flu-like symptoms and may have contracted a mild case conjunctivitis (pink eye)... Hawaii expects to become the first men's collegiate volleyball program to draw 100,000 fans, and should do so with tomorrow's match. The Rainbows have drawn 97,395 fans so far, more than double last year's record-setting figure of 45,916.




---