---
SPORTS SPOTLIGHT
---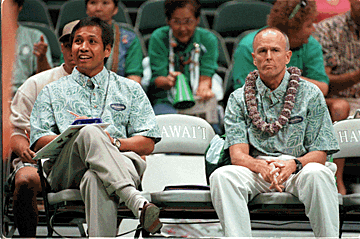 Coach Mike Wilton, right, and assistant coach Tino Reyes. "I've known him for a long time," says Wilton, "and he is no way a 'yes man' -- and I need someone around like that."
Photo by Kathryn Bender, Star-Bulletin
---
Coach Wilton's Right-Hand Man
By Mike Fitzgerald
Star-Bulletin

HIS volleyball road has been a well-traveled one.

In fact, you better have more than a few minutes if you ask Tino Reyes where he has played and coached.

Oregon. Southern California. Utah. Southern Illinois. Central California. The Big Island. Windward Oahu. Honolulu.

You name a location and the odds are that Reyes has peered through a volleyball net there.

But most important for the top-ranked University of Hawaii men's volleyball program - and head coach Mike Wilton - is that his path led back to the Special Events Arena.

Reyes, 39, is in his fourth season as an assistant under Wilton, whom he played for and coached with at Cal Poly San Luis Obispo.

And keeping a suitcase handy in his earlier days has paid off, said the Molokai native.

"When you go from one program to another, even if it's a bad program and you don't agree with what's going on, you can steal some good things," Reyes said. "And you can learn how not to do things."

Reyes started playing volleyball in the ninth grade at Molokai High School.

"We only played three or four games my freshman year," he said. "We never played more than 10, 15 games at the most in any season."

Now he is an important part of the No. 1 Rainbows.

"We're philosophically in tune," said Wilton. "I've known him for a long time and he is in no way a 'yes man' - and I need someone around like that.

"He'll say 'Hey, wait as minute, this isn't right. There is something wrong with this.' I really appreciate that a lot."

Reyes isn't a full-time university employee, which means less pay for more work. But he isn't complaining.

"For any kind of volleyball, this is probably the best place to play in the country," he said. "It's nice to see so many people in the stands.

"I like my job. I wish I could get full-time status, but I totally enjoy working with Mike. We've had a lot of success together."

Reyes has several jobs as the UH assistant coach. He makes all the team's travel arrangements and charts the opposition during matches. In practice, he works a lot with the setters and he is a top recruiter.

"He's got great ideas - he's a good people person and has a real good command and knowledge of the game," Wilton said. "He's our defensive coordinator during the game and helps us make big decisions during timeouts.

"And he's got a real good eye in terms of recruiting. He has a good capability to discern people, to see the type of people that we want in the program.

"He helps us recruit good athletes and good people, which is one of our major concerns."

Reyes said being what UH calls "a casual hire" is a downside of the job.

"My wife is the breadwinner, luckily," he said with a smile. "She works for the FAA as an electrical technician."

Reyes and his wife, Susan, have three sons. Between volleyball and his family, there isn't much time to do anything else.

"I'm a duffer at golf, but I've got three kids, so I have to get up real early," he said. "Then I usually only play nine holes and get back in time to play with the kids."

Reyes said the UH volleyball guys are also fun to be around.

"They're just great," he said. "They're good student-athletes. I can't say enough about them.

"But when we recruit a kid, we expect them to be good people, good citizens and good athletes as well. We tell them what we expect when we recruit them."

The team and its coaches have a common destination in mind for the end of the season, he said.

"Our goal is to win the national championship."

One more stop on the volleyball road for Tino Reyes.




---