---



"When I see what is happening back home,
I feel so lucky to be in America."
Sivan Leoni UH volleyball player from Israel
---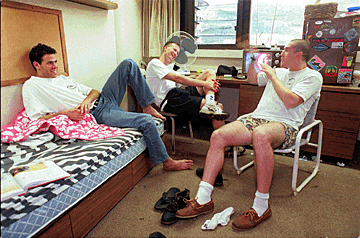 Yuval Katz, Naveh Milo and Sivan Leoni, from left, relax in their dorm room at UH. Photo by Kathryn Bender, Star-Bulletin
Troubled homeland
plays on their minds
For Hawaii's three Israeli players,
no news from home is usually good news
By Paul Arnett
Star-Bulletin

FOR most Americans, terrorism is something they see only during dinner on CNN.

The stark television images of shattered glass, burning buildings and people crying in despair certainly give them pause, but it's not like being there.

Just ask the three Israelis on the University of Hawaii volleyball team, who grew up in a region that has been in conflict for thousands of years.

Yuval Katz, Sivan Leoni and Naveh Milo know all too well what it's like to live in a world of snipers and suicide bombers. They were involved in the military in varying degrees and still have friends who patrol such hot zones as the West Bank.

"Fortunately, I never was involved in anything like that," Milo said after yesterday's practice at the Special Events Arena. "But two soldiers in my (school) were in a place where a suicide bomb went off last year.

"They weren't hurt, but after it was all over, they were in shock from what happened.

"You can't really describe something like that. I feel fortunate I'm not over there with them and having to fight. We all do."

There have been several major incidents since the peace accord was reached between Israel and the Palestine Liberation Organization. Prime Minister Yitzhak Rabin was assassinated last year, and several suicide bombings the past few weeks have worsened the already strained relations.

Whenever the three UH players read of these problems in the newspaper or see the devastation on television, they think of family and friends, and how it will affect the uneasy truce between the involved parties.

"I feel for the families who lose loved ones," Katz said. "You wonder how many people were killed and injured in something like that."

Said Milo, "I think about the peace process because in Israel, politically, there are two groups - the right and the left - that are more or less equal.

"Every bomb makes people against the peace process. I support the peace process. Both sides need to be patient in order for it to be successful."

Leoni agreed.

"Every kind of action like these just makes the people more against the current government," Leoni said. "It's really hard to hear about it, especially being so far away. But like Naveh, I support the peace process."

Unlike the United States, the people of Israel must serve in the military for three years. The duties for Katz and Milo weren't the same as the average citizen, because they were athletes.

"None of us ever had to fight," Katz said. "But I had my own gun. I had to carry it, clean it and bring it home with me. But I never shot it at anyone.

"I did have to stand guard maybe once or twice a week during the night on the base, but it wasn't very dangerous, like Lebanon, where there are a lot of terrorists who try to kill soldiers like us."

In this case, dangerous is a relative term. There is no place in Israel that is as safe as Hawaii. But in Milo's mind, there should be.

"People here don't know what it's like," Milo said. "We have all these guns and war, but here they just go about their business and never think about fighting. And they shouldn't have to.

"But in all the history of Israel, there is war. All the young people go into the army. It's a way of life, something we've known since we were little kids.

"Nobody talked about not going. It's a duty, but if you get into a unit with a good commander, it's an honor. People look at you like - wow!"

Katz put it this way: "You know what it's like to go to Harvard or Yale? Well, being in a good outfit is prestigious like that."

Only the best athletes are exempt from the normal military service. While Milo and Katz fell into that category, Leoni did not. He didn't serve the normal tour of duty because of his asthma.

He also would like to remain in the United States once his schooling at Hawaii is complete, but someday Katz and Milo want to return home to Israel.

"You feel kind of detached over here when something bad happens, like when the prime minister was killed," Katz said. "You don't know what's really happening."

Milo was in Israel last year when Rabin was assassinated, and described it this way: "When it happened, our country felt like yours when President Kennedy was murdered. People were crying in the streets."

These days, Katz, Milo and Leoni are enjoying the success of the No. 1-rated Rainbows. While they love the state and the UH fans, none of them ever envisioned going to school here.

"We have this game we play as kids," Milo said. "One kid has the ball and the other kids run away. If you catch the ball, you have to hit them.

"If you throw the ball too far or out of bounds, then that place is called Honolulu. That's how most people in our country see this place - very far away."

Leoni interjected, "But this is a great place to be. When I see what is happening back home, I feel so lucky to be in America."




---